Key Specifications
Automatic
Shower & Toilet
Guaranteed under 2y old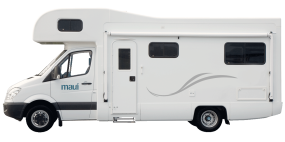 A new way to travel
Our focus for this 4 berth motorhome was a contemporary design with an apartment feel – warm neutral tones, comfortable living areas and reading spotlights. We've enhanced the front dining zone for a really versatile space.
Your campervan hire is complete with apartment styled kitchen utensils and fresh white linen, just like what you'd expect to find in a hotel, but in Maui motorhome.
Add the maui Elite at booking to ensure your vehicle is a new, under 1 year old motorhome! maui Elite is subject to availability.
You must be over 21 years of age to drive this vehicle.