Key Specifications
Automatic
Shower & Toilet
Guaranteed under 2.5y old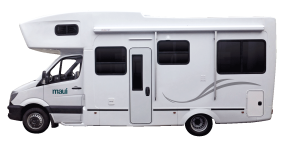 Stylish comfort for up to four
Our focus for this 4 berth motorhome was simply creating room for you and your travelling companion to stretch out in and enjoy each other's company but not live in each other's pockets. We've enhanced the front dining zone for a really versatile space.
Your maui campervan is complete with apartment styled kitchen utensils and fresh linen, just like what you'd expect to find in a hotel.
Add the maui elite at booking to ensure your vehicle is a new, under 1 year old motorhome! maui Elite is subject to availability.
You must be over 21 years of age to drive this vehicle.